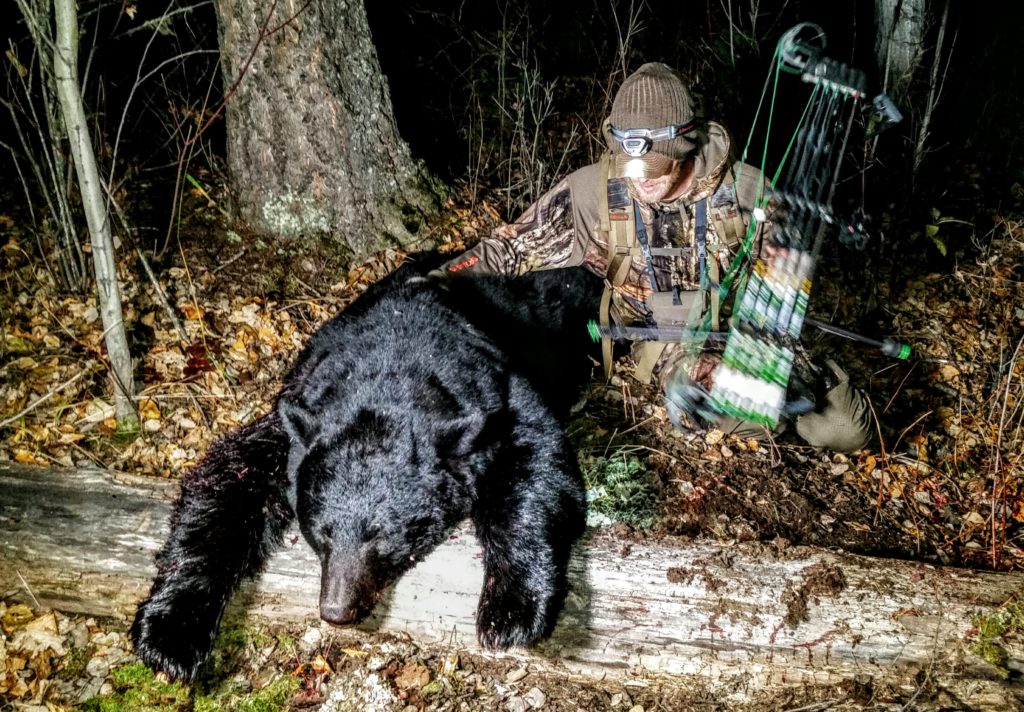 Spring Black Bear Hunting in BC is our specialty! This is an exhilarating spot-and-stalk hunting experience. In BC it's illegal to hunt bears over bait, and in all honesty, it's not necessary. With an estimated Black Bear population of more than 100,000 animals province-wide, our hunters have plenty of opportunity to harvest a mature boar. Unlike the majority of other outfitters, we only take a few Bear hunters a year to assure that our guys take large mature Bears. Still not convinced??? We have a 100% opportunity rate on Bear hunts!
BC's logging industry has created habitat for Black Bears to thrive and it's in these logged areas that we primarily hunt. In the springtime, the bears generally like to eat clover, grass and other greens that grow in abundance in logging slashes and on old roads. We also have access to private land farm fields that have produced many bears for us in the past. These are the areas you and your guide will be concentrating on. Your time will be spent traveling the logging roads by truck or ATV and frequently glassing the slashes, fields, and surrounding hillsides looking for mature boars. Having such a diverse area to hunt ensures that our hunters have a chance at a trophy bear.
With such a healthy Black Bear population it's not uncommon to see as many as 10 + bears in a day and most of our hunters will have several opportunities at good Bears. Whether you're shooting a rifle or a bow our guides have the experience to get you into a comfortable shooting distance. If that's 200 yards or 10 yards we'll get you as close as you want to be.
The first bear is included in the price of the hunt and a second bear can be harvested for a trophy fee of $1900 that will be collected only if the 2nd bear is harvested.
BC and Beyond Outdoor Adventures Black Bear Hunts:
5 Day Hunts
Booking for May/June
1 x 1 (1 hunter 1 guide) = $5500.00
2 x 1 (2 hunters 1 guide) = $4500.00
Prices do not include tax(5%), licenses, royalties, or NRHPF ($250)
[box color="brown-mute" type="square" icon="asterisk"]The guides at BC&B are well trained in trophy field care because Marty, owner and operator of BC&B, is an experienced taxidermist with his own full service taxidermy studio (Majestic Taxidermy) here in Prince George. Marty is experienced in shipping trophies all around the world. You can leave your trophies to be mounted by Marty or we can prepare and ship to your taxidermist. Trophy care on your Black Bear hunt will include caping, fleshing and salting of all hides. Bear and Wolf skulls/hides require a CITES permit, and must be shipped.[/box]
[divider type="line" width="medium" align="aligncenter" clear="clearleft"]