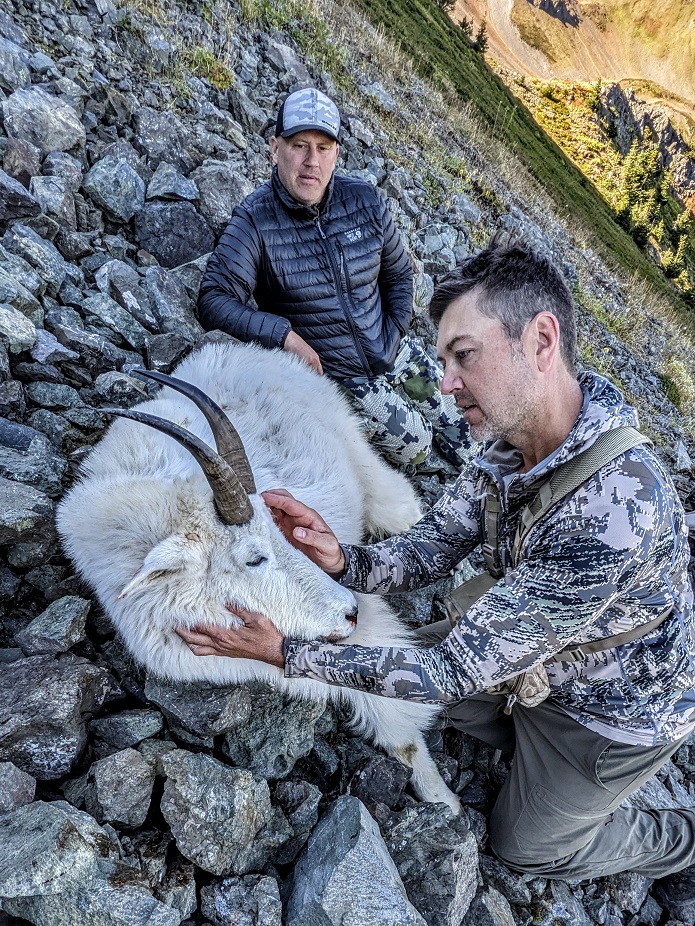 Mountain Goat hunting is a passion of ours. For mountain hunters, the Sheep hunts get all the glory. The truth is, Mountain Goat live in more challenging country and can be a tougher hunt both mentally and physically. In our opinion, a Mountain Goat hunt should be priced higher than the Sheep hunts… Luckily for our hunters they are only a fraction of the cost! There is not a more rewarding hunt, or impressive trophy, than a mature Rocky Mountain Goat. Working with various outfitters, we can tailor your hunt to whatever adventure you desire. Whether that be a fly-in wilderness backpack hunt, or a Nov rut hunt that produces some truly giant Billy's. Even if you're not in the greatest shape, or maybe have a disability that keeps you from the true hard-core hunts, we have an option to spike out from a lodge in some of the easiest going Goat country in BC. We also offer one of the best Archery friendly Mountain Goat areas we have ever seen. We have hunted every corner of the province for Goat and nobody knows the mountains better… We will put you on the trophy of a lifetime. If your still not convinced, we have been 100% successful on our guided Goat hunts.
BC and Beyond Outdoor Adventures Mountain Goat Hunts:
Booking for Aug/Sept/Oct/Nov

7 Day Hunt

1×1 (1 hunter 1 guide) = $14,900.00

2×1 (2 hunters 1 guide) = $13,900.00

Prices do not include tax, NRHPF, license & tags
The guides at BC&B are well trained in trophy field care because Marty, one of the owners and operators of BC&B, is an experienced taxidermist with his own full service taxidermy studio here in Prince George. Marty is experienced in shipping trophies all around the world. Trophy care on your Goat hunt will include caping, fleshing and salting of all hides. Horns must be prepared and shipped to you.